Our challenge was to anchor the values and passion around avocado lovers, combining technology and design into a truly memorable experience. We decided to take a minimalistic path and applied a flat colour palette, trying different looks for avocado's specific use.
We had to build a clean and solid design around while selling an unique value proposition
Stakeholder interviews    – Competitive audit   – Workshops    – Moodboard    – Wireframes    – Prototype    – Design system
Deconstruct, inspect and re-design every aspect of the experience
California it's a special place — the people, the beaches, the forests, the mountains and everything else. To give you an idea of what makes California Avocados particularly special, less than 1 percent of the state is suitable for growing them. We're talking only the richest of rich soil, the freshest coastal breezes and, of course, the friendly California sun. The most sublime weather conditions foster the growth of our superfood. This, accompanied by the care of more than 3,000 California Avocado growers, ensures you of that creamy avocado taste with each slice.
California Avocado represented a great opportunity to teach big audiences how to get the best out of a product-brand.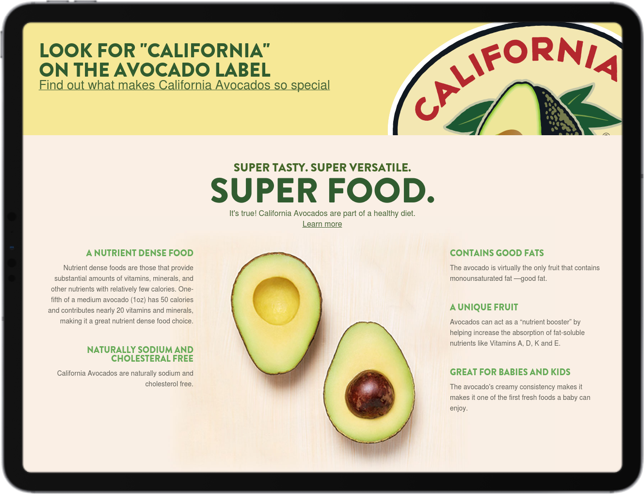 We delivered a working product along with a design system that set a foundation to build upon.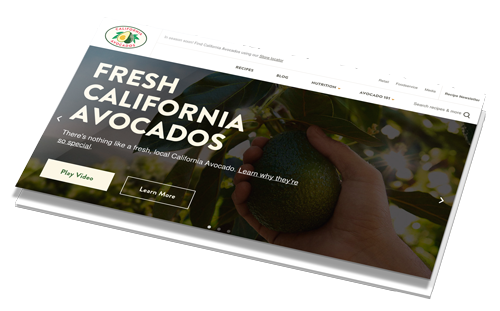 We also provided specific documentation aimed to promote coherence and consistency through the journey, while giving freedom and flexibility to create regional content without any major complication.
Returning users metric grew a 40%
Reduction of the bounce rate by a 10%